Going somewhere new with kids isn't always easy.
Here's what you need to know to make your first visit a great one.
What does Sunday look like for my kids?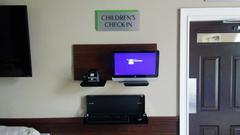 Children's Check-In  For any children's environment at Crossroads, you're first step is always to swing by one of our two check-in stations (Children's Wing lobby and Sanctuary lobby) and take a few moments to provide us with the basics like your contact information and any known allergies. You and your child will then receive a matching label so only you or someone you designate will be allowed to pick up your child. After your first visit, checking in is as simple as clicking your child's name on the computer screen.
6 weeks through 4/Pre-K  Even though your children are always welcome during our whole worship service, a nursery is provided at our 10:45 service.  But it's not just babysitting time!  Your children will hear Bible stories and even memorize some scripture in this age-appropriate, safe setting.
(10:45 Service) Pre-K through 5th Grade worship with the whole church up until we take a short break for parents to escort their kids down to the Children's Wing for their own time of small groups, an age-appropriate lesson, crafts, sharing, and prayer.  Your children will be waiting for you in the Children's Wing at the conclusion of the service.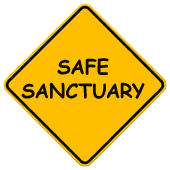 We take the safety of your children seriously.  These are our regulations that help us provide the safest environment possible for your children.